Running a business is a huge commitment, raising a family is an even bigger one. Doing both at the same time? There are no words to describe the madness. That's why we want to share some tips for time management for home and work.
The one thing both have in common is that they are comprised of many layers of 'complicated'.
On top of the full time (and then some) job of running the business, we have to try and shoehorn in a way to bring up the children… (kidding, they always come first). It's not easy, but we wanted to write this article to try and address how we balance the business and the children. Maybe it'll be helpful to others who are swimming up the same stream.
How we manage time like total bosses
For us, the first and foremost, the backbone and the foundation of life is time management. TIME MANAGEMENT.
We have a wall planner with all personal tasks and business tasks listed out for the week. It lightens the mental workload somewhat and as we all sit down together to fill it in on a Sunday evening, we all know what each other are doing. Of course, unexpected events will come up, but this is true in all walks of life. It just means we have to 're-jiggle' the calendar.
Housework: now it would be easy to pay someone to come in and do it for us, but as a small business every single penny counts. We read an article recently that promised the answers to managing your career and a family and guess what? All the tips were centred around services you could pay to do stuff for you. They had meals delivered to their house, they paid a cleaner, they paid for babysitting… you get the picture? That got an eye roll, but we're sure it was helpful to some people… maybe?
We don't do all of that.
We batch cook, we make the most of the hours the kids are at school and we have a power hour on a either a Saturday or Sunday when all four of us storm through the housework. The children are in charge of their bedrooms, we do the rest of the house (luckily it's not a big one) and that's that. There are only two services to assist with house chores that we pay for: dry cleaning of shirts and grocery delivery. To justify this we worked out how much we make per hour and how long it takes to wash and iron the shirts and to go to the supermarket. The dry cleaner and generic supermarket delivery man save us money. It's as simple as that!
Family time:
Of course, we schedule the time to spend together as a family, but if we spent as much as we wanted to, we wouldn't get any work done, ever. Saturdays are the day when we drop all work and devote the time purely to being a family. Activities include a day out, a trip to the library (it's a 2-mile walk along the riverfront that ends with new books – they love it. And there are books for us too!), maybe a trip to the trampoline park or a simple pyjama and movie day. The main rule is quality time. We all look forward to it all week.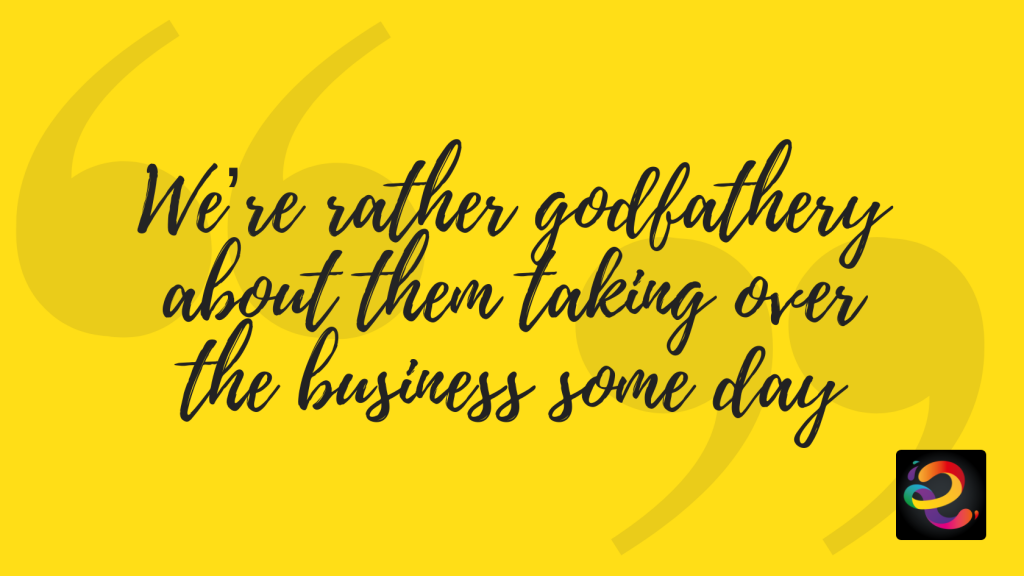 Aside from this time we try and involve them with the work we do. We are very lucky that they enjoy being in front of the camera and are currently helping us to put together a video campaign. It's work and we all really enjoy it. The eldest has been learning to code as well. We're rather godfathery about them taking over the business someday so why not start teaching them from a young age?
We eat LOTS of frogs!
It was Mark Twain who first suggested that we should eat frogs (in a metaphorical sense that is). His theory was that if your most awful job every day was to eat a live frog, then it should be done first thing in the morning so that you know it's done and the rest of the day will, therefore, be a good one.
We wholeheartedly adopt this policy and use it every day to get stuff done. We power through our most frog-like tasks in order to enjoy more of the day.  In a business sense, we like all of you have elements to our work that isn't fun (accounts, I'm looking at you…), but we eat the frog early and concentrate on the fun bits (which luckily for us is most of it).
[bctt tweet="We eat the frog early and concentrate on the fun bits."]
The kids eat frogs now too
It's also a super handy way of explaining to the children why their bedrooms have to be cleaned before we can start the fun.  We sat our eldest child down and explained the whole frog theory to her, that it was better to get the boring stuff out of the way.  Amazingly she fully embraced the idea and has been keeping her room tidy with minimal nagging. Magic!! We explained the same to the youngest and while it had similar results, we think she genuinely thought we were talking about real frogs (we did correct her on this!).  The point is, it really works and we recommend you give it a go.  We'd love to hear about your own 'frogs' too.
Free(ish) Tools – Time Management for Home and Work
We use a few free tools to help with our time management and hopefully, you'll learn to love them as much as we do.
Trello is a fantastic tool that lets you organise anything and everything using boards and cards. We use it for work projects but have also been known to use it to plan our family holidays (yes, we are that rock and roll!!). With this app, we can arrange our tasks into lists, add labels, add images or links or documents or anything we like. Then we can allocate people to the "cards" and even drag them around and re-order them. Seriously, you need to try it, it WILL change your life.
The ability to take ideas out of our heads and drop them into Trello really helps clear our minds and lets us keep track of things through a gorgeous interface that's a pleasure to use. Trello is a great tool for time management for home and work.
Evernote lets you make notes and add pretty much any kind of media to them you can think of. It's like a digital filing cabinet that you can share with your colleagues or friends. You can also share the entire contents of your filing cabinet across all of your devices and it even plays nicely with Siri.
Ok, this one isn't free, but it's very cheap and very, very handy. Temi is a speech to text transcription service. You can add any kind of audio file to Temi and you will get a full transcription in just 5 minutes. At $0.10 per minute, it's a steal. We've all been in a meeting where we'd like to take loads of notes, but that just gets in the way of what you're trying to talk about, right? Well, problem solved.
4. Siri
These days everyone has access to a smart assistant of some kind. Siri or Alexa or Google, they will all patiently listen to whatever you have to say.
You can use them to write anything you need to without that annoying moment when you get halfway through a sentence and forget that brilliant word you wanted to use. Just tell Siri (other smart assistants are available) to start a note for you and then just tell her what's on your mind. You might end up with a long passage of text, but you can then go back and edit it and it will sound so much more conversational than if you try to type it all out.
5. Pen and Paper
Yes, we work in digital. Yes, we use our smartphones and tablets and laptops. Sometimes it's just nice to write stuff down, maybe even chuck a little doodle in there for good measure.
The digital age is here and it's here to stay but staring at a screen for hours on end isn't healthy and good old-fashioned ink on paper is still surprisingly satisfying. Also, once you're done, you can just scan your handwritten pages straight into Evernote – everyone's a winner 💪BOOM!
There are never enough hours in a day when you have a family. When you chuck a business into the mix too… oh WOW!
We've shared a few tips and tools that we use to help control the madness. What do you do to manage your time? Let us know in the comments.